My name is Abraham Szép, I was born in Transylvania (Romania) in 1975 in Saint George city. One of the defining experiences of my childhood was spending my school holidays with my grandparents in Vargyas village, when I came close to the pets of my farmer relatives. The village is located in the "Erdövidék" (Forest) micro - region of Eastern-Transylvania where the most famous Hungarian fairy tale writter "our nation's Grandfather" Elek Benedek was born. In the mountains, the animals are driven up to summer pasture, so I got to know the shepherds everyday life and the conflicts with predators. For me it turned out to be a very interesting, exciting and inexhaustible topic.
In 1990, I moved to Hungary with my parents. I had became Kuvasz owner since 1992 and started breeding in 2007. In 2003, I completed the a gamekeeper & game breeder school, and in 2009 I graduated as a wildlife conservation & management engineer at St. István University in Gödöllő. The title of my thesis is "Defending livestock with Shepherd Dogs in Szeklerland-Transylvania against Carpathian Gray Wolves' attacks". I worked as gamekeeper for more than 4 years and bred for several years sheep and goats together with kuvasz dogs, to assessing how they are adapting to each other. Of course, due to my profession, I have been following with interrest the number of large carnivores in Hungary, the population, the dynamics of the population and the scientific evidence of their reproduction.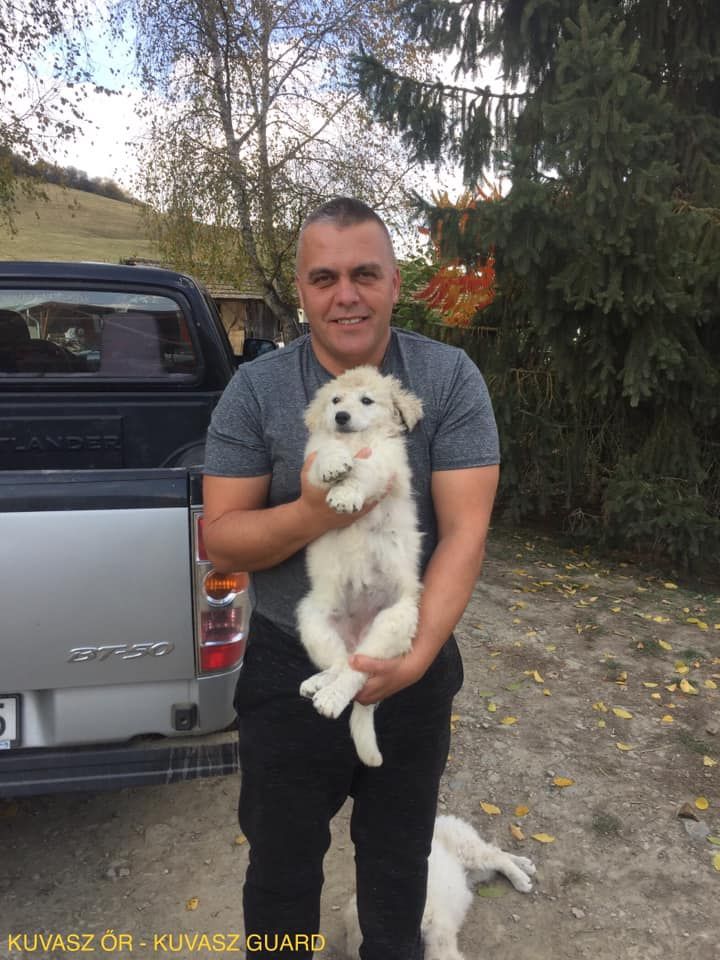 ABOUT THE KUVASZ Őr (GUARD) PROGRAM
"It has to be stated clearly that large predators are not to be toyed with, they can easily become dangerous for humans. Nevertheless, it is my strong conviction that we haven't got any permission, not even from God to exterminate them. Predators are essential and key species in the wilderness"
Ábrahám Szép, widlife conservation & management engineer
In the year 2016, after the first press release in Hungary on depredation on livestock by large carnivores, both the affected citizens and wildlife experts were surprised. This was the moment for me when it became clear that the carnivore populations have increased in the last decades and good practices to coexist with them needs to be widely disseminated. Thus, the programme "Kuvasz Guard" ("Kuvasz Őr") was born in 14th of Ferbuary 2016 with the financial support of Ray Dorgelo & Canine Efficiency.
http://www.canineefficiency.com/2015/09/about-me.html
GOALS
I. PREDATOR CONSERVATION
Help in acquiring a problem-free coexistence between humans and large predators in the rural regions of Northern Hungary. Bükk National Park Directorate (BNPD): The program got in touch with the BNPD in 2016 and since then we have a good work relationship with each other.
II. KUVASZ AS LIVESTOCK GUARDIAN DOG (LGD) CONSERVATION
Placing pedigree kuvaszok back into their original role and function: livestock guarding, giving them back the mission for why they have been bred for centuries.
III. HELPING THE INTRODUCTION OF OTHER"NON LETHAL " CONFLICT MANAGEMENT METHODS
… such as light and sound equipment, fladry, electric fence, all day long human presence,ect.
IV. HELPING THE WILDLIFE CONSERVATIONIST STUDENTS STUDIES WITH PROVIDING THE ENVIRONMENT OF PROGRAM PLACES
In the year 2019 a student has already been using the Program's places for her degree: Eszter Gódányi: Challenges of wolf management in Bükk National Park
V. RESEARCH
To provide for researchers the conjuring environment of the Program participant farms to study interactions among wolves, LDG kuvaszok (plural form of kuvasz) and livestock.
VI. TO PARTICIPATE AND PROMOTE THE ELABORATION OF A PREVENTION AND/OR A COMPENSATION SYSTEM IN HUNGARY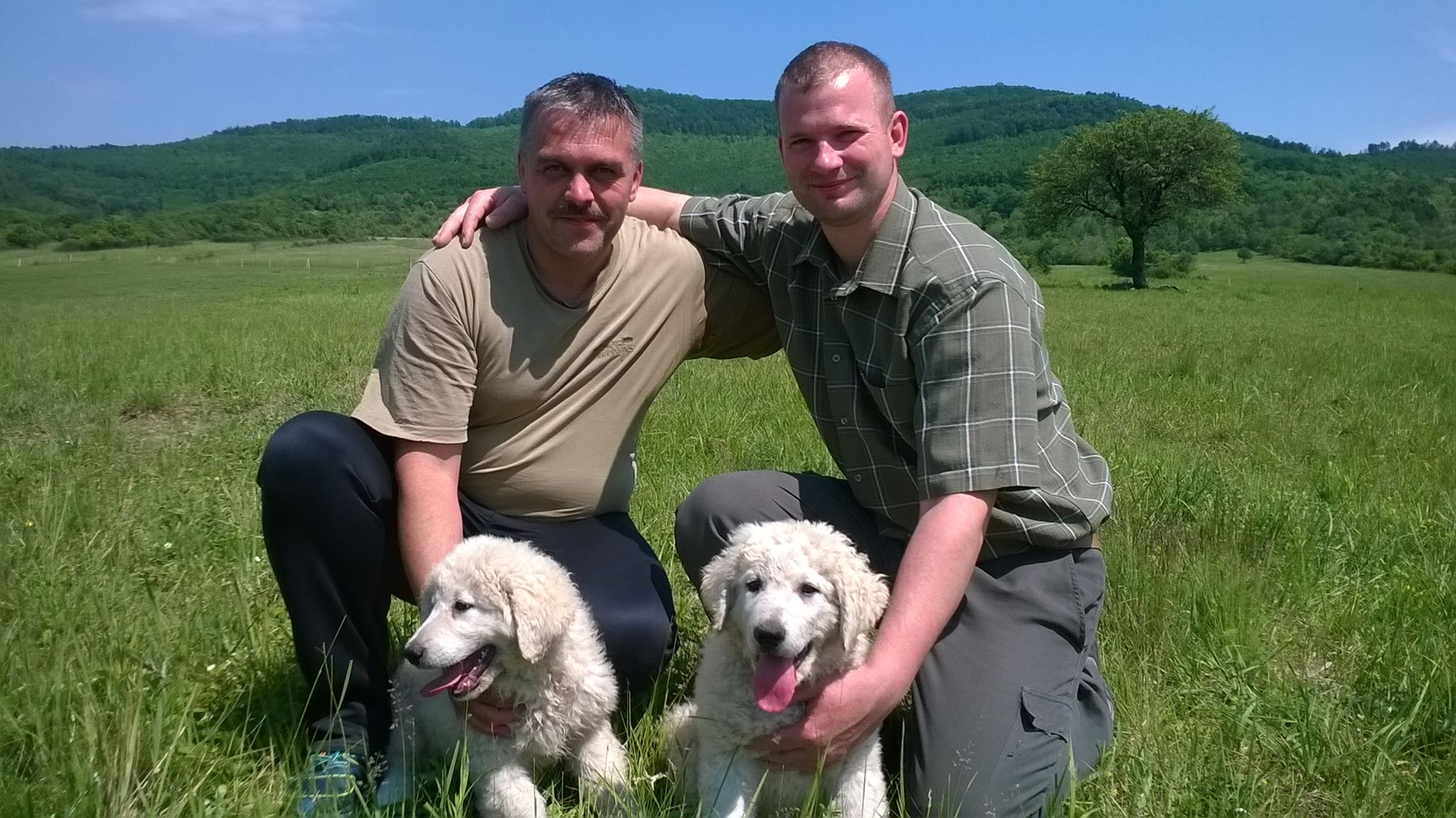 ABOUT THE KUVASZ Őr (GUARD) Foundation
From 5th of December 2019, the Program works within the frame of the established Kuvasz Guard Foundation, with the original principal objectives of protecting predators and restoring the original livestock guardian role of kuvaszok in order to:

- look for new potential farmers who may be able to keep kuvaszok along with farm animals.
- will strive to establish good relations with the three national parks with high presence in Northern Hungary: Bükk, Aggtelek and Danube-Ipoly National Parks, WWF Hungary and the Ministry of Agriculture
- concludes an agreement with the Hungarian Kuvasz Breeding Association (MKFE) on the reintroduction of the kuvasz to its original livestock guardian function. This agreement still exists between the Kuvasz Guard Program and MKFE.